24 drives home for Christmas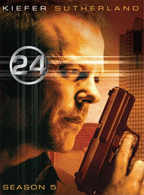 20th Century Fox Home Entertainment has scheduled Season 5 of the hit TV show 24 for release on DVD in December.
Eighteen months after faking his own death, Jack Bauer is forced to return to Los Angeles when it becomes apparent that the only four people who know he is still alive are being systemically targeted for assassination. The assassinations coincide with the signing of an anti-terrorism treaty between Russia and the U.S., leading Jack to suspect a link between the assassinations, the treaty, and a group of Russian terrorists. But as events slowly unfold it becomes apparent that the day's horrific events were originally set in motion by someone within our country's own administration – an individual with the power and resources to thwart Jack's every move.
Coming as a 7-disc DVD box set, the release will contain a number of Commentary Tracks with actors and filmmakers on selected episodes. The seventh disc will be a bonus DVD filled with nothing but supplements, such as a number of Featurettes, such as "Supporting Players," "Music By Sean Callery" and "Logan's Retreat." Also included is the 40-minute Documentary "Unsung Heroes: 24 Camera Department."
The disc will also contain 23 Extended and Deleted Scenes with optional commentary, and a special 100th Episode Reel. A sample of the book 24: Behind The Scenes will also be part of the disc.
"24: Season 5" will be available on December 5 with a $59.98 suggested retail price.