Warner celebrates the Holidays with National Lampoon's Christmas Vacation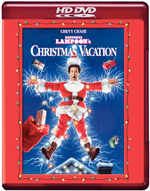 Warner Home Video just pulled the veil off another movie that will make its HD-DVD debut before Christmas. National Lampoon's Christmas Vacation has been scheduled for a December release.
This holiday season Clark Griswold vows his clan will enjoy "the most fun-filled old-fashioned family Christmas ever." Before you can sing "Fa-la-la-la-lah, " he decks the halls with howls of folly in the perennial favorite National Lampoon's Christmas Vacation.
Seeing is believing. There are 25, 000 lights on the roof. An exploding turkey on the dining room table. A SWAT team taking siege outside. A festive supporting cast and a John Hughes script full of wit, heart and sheer goofiness. Yule love it!
Coming as a single-layer HD-15 disc, the release will sports the movie's widescreen presentation and feature a Stereo Dolby Digital Plus audio track. French and Spanish language tracks will be provided in monaural Dolby Digital Plus.
Expect to see the Commentary Track with Randy Quaid, Beverly D'Angelo, Johnny Galecki, Miriam Flynn, Director Jeremiah Chechik and Producer Matty Simmons back on the release.
"National Lampoon's Christmas Vacation" will haunt the neighborhood on December 1 .