Up in the sky… it's Krypto, The Superdog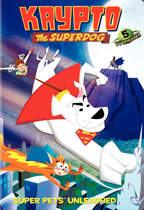 Krypto, the unlikely canine hero on Cartoon Network comes to DVD again with Krypto, the Superdog Volume 2 thanks to Warner Home Video.
Krypto is a Superdog from Planet Krypton, who comes to earth after traveling across the galaxies as a test pilot puppy aboard a malfunctioning rocket ship built by Superman's father. Years later when the rocket finally reaches Earth, Krypto is a full-grown dog. With no family, he finds a new friend in a young boy named Kevin Whitney who soon realizes that Krypto has super powers. With the help of Kevin, Ace the Bathound (Batman's Caped Canine), Streaky the neighbor's cat and the Super Pets in the Dog Star Patrol, Krypto responds to the call of duty and embarks on an adventure to save those in need.
Krypto is featurless, but contains the five episodes The Streaky Story, Diaper Madness, Feline Fatale, Dog-Gone Kevin and The Dark Hound Strikes.
Look for Krypto to land on October 24th for $14.97.