Universal gives us a Scoop of Woody Allen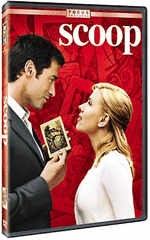 Universal Home Entertainment just announced a DVD version of the latest Woody Allen comedy Scoop for release in November. The film, starring Woody allen, Scarlett Johansson and Hugh Jackman, is an enchanting sexy romantic comedy set in… London for a change.
While visiting friends in London, inexperienced student journalist Sondra Pransky (Scarlett Johansson) plays detective along side a washed-up magician (Woody Allen) when she receives the tip of a lifetime. Johansson is luminous as Pransky, going toe-to-toe with co-star Allen to create a delightfully dishy foil who matches him quirk for quirk and quip for quip. Hugh Jackman plays Peter Lyman, the man Sondra suspects of being "the Tarot Card Killer," even as his deadly charms set her heart aflutter and sexy chemistry between the two.
As is typical for Woody Allen movies the DVD will contain no extras at all.
The DVD is scheduled for a November 21 release and priced at $29.98.