Universal bows King Kong, Hulk and Waterworld in high def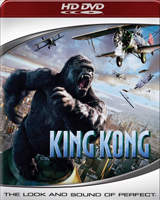 Universal Home Entertainment just announced plans to release three more titles on HD-DVD this fall, giving King Kong, The Hulk and Waterworld their high definition debut.
King Kong is Peter Jackson's remake of the 1931 classic, telling the story of a giant gorilla found on a desolate island, who is then taken captive and transported to New York for exhibition where he breaks free. The HD-DVD Version will feature the 188-minute theatrical cut of the film according to our information, complete with all the bonus materials form the 2-disc Special Edition.
The larger-than-life Marvel Super Hero The Hulk explodes onto high definition! After a freak lab accident unleashes a genetically enhanced, impossibly strong creature, a terrifed world must marshal its forces to stop a being with abilities beyond imagination. The HD-DVD version will contain the extras from the DVD, including a Commentary Track by Ang Lee, as well as the Featurettes "Hulk Cam," "Evolution of the Hulk," "The Incredible Ang Lee," "The Dog Fight Scene," "The Making of The Hulk," and "The Unique Style of Editing The Hulk."
Kevin Costner, Dennis Hopper and Jeanne Tripplehorn star in Waterworld, unmatched in sheer excitement and heart-pounding suspense. In this futuristic thriller. Earth is covered with water and the human race struggles to survive on dilapidated boats and makeshift floating cities. Costner portrays a drifter who becomes caught up in the struggle between the evil Deacon (Hopper) and a child's secret key to a wondrous place called "Dryland." With refreshing humor, groundbreaking special effects and awe-inspiring action suspense. Waterworld sets a glorious high-water mark for imaginative, thrill-packed entertainment. No extras have been announced for this release but since the DVD version never had any bonus features either, this will most likely be a bare-bones disc.
All three discs will be in stores on November 14 with a $29.99 price tag.