The Masters Of Horror continue in Gothic style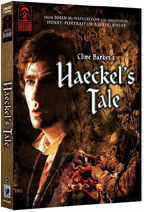 With Tobe Hooper's "Dance Of The Dead" and Miike's "Imprint" appearing in the Masters Of Horror line of DVDs this month, things look great for Halloween. However, Anchor Bay Entertainment has just unveiled that Haeckel's Tale directed by John McNaughton based on a short story by Clive Barker and a script by Mick Garris will come to DVD in November.
In this atmospheric gothic film, while on his way to see his sick father, Ernest Haeckel (Derek Cecil) takes shelter with an elderly man and his young wife but soon discovers their horrible secret…
The DVD will come in the same form and shape as the other titles of the acclaimed series, complete with a Featurette look at the director's body of work, Making-of Featurettes, Cast Interviews, "Working With A Legend" Featurette and so forth.
"Haeckel's Tale," which was originally penned fro Roger Corman to direct, will be in stores on November 14 for $16.98.