The King And I celebrates its 50th Anniversary in style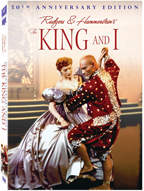 20th Century Fox Home Entertainment has just unveiled details about a 50th Anniversary Special Edition of The King And I, set for a release in November.
This visual and musical masterpiece features Yul Brynner's Academy Award® winning performance, an inforgettable Rodgers and Hammerstein® score, and brilliant choreography by Jerome Robbins. It tells the true story of an Englishwoman, Anna Leonowens (Deborah Kerr), who comes to Siam as schoolteacher to the royal court in the 1860's. Though she soon finds herself at odds with the stubborn monarch (Brynner), over time, Anna and the King stop trying to change each other and begin to understand one another.
The 2-disc DVD set will feature a widescreen version of the 1856 movie in its original 2.55:1 aspect ratio, complete with 5.1 channel Dolby Digital tracks. It will also be complemented by a Commentary Track Richard Barrios and Michael Portantiere and the film's Isolated Score – a feature we haven't seen in a long time.
On the set's second disc you will find the Anna and the King TV Pilot with a Commentary Track by Samantha Egger. Also included are a series of Featurettes such as Something Wonderful: The Story of The King And I, The Kings of Broadway, The King and I Stage Version, The King of the Big Screen and A Royal Production .
The featurette Restoring Cinescope 55 will take a look at the widescreen restoration of the film. Next up are a number of Vintage Stage Excerpts, like Getting To Know You & A Puzzlement performed by Patricia Morison and Yul Brynner, as well as an Additional Song, "Shall I Tell You What I Think Of You" performed by Anna.
The release is rounded out by Movietone News "Charity Premieres of The King And I," "Musical Milestone," "Ingrid Bergman and Yul Brynner Oscar Winners," and "Australians from Yul Brynner Club."
"The King And I: 50th Anniversary Edition" can be yours on November 7 for only $26.98.