The Grinch steals Christmas in high definition this year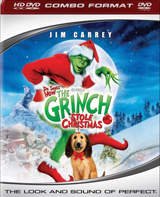 Universal Home Entertainment has just added Ron Howard's How The Grinch Stole Christmas to their HD-DVD line-up, scheduling the title for a November release.
Acclaimed director Ron Howard, his longtime partner and producer Brian Grazer, plus Jim Carrey (as the Grinch) brings Dr. Seuss' beloved tale to life in this adventure that can make your heart grow three sizes. With dazzling scenery and special effects, narration by Oscar®-winner Anthony Hopkins and Jim Carrey's own rendition of "You're a Mean One, Mr. Grinch," this is a perfect family Christmas treat.
This release will be another HD-DVD/DVD combo, containing the high definition version with a 1080p transfer and Dolby Digital Plus and DTS audio tracks on one side of the disc for HD-DVD players, while the flip side will feature the full DVD version of the film, as it was previously released.
Therefore you will find bonus materials such as the "Spotlight On Location" Featurette and Deleted Scenes on this release as well as Outtakes and a selection of Production Featurettes on the subject of the make-up, production design and visual effects. Fatih Hill's "Where Are You Christmas?" Music Video will also be included along with Wholiday Recipes and many other supplements.
You can catch Jim Carrey in "How The Grinch Stole Christmas" in high definition on November 21 in this HD-DVD/DVD combo for $34.98.