The Barnyard breaks loose in December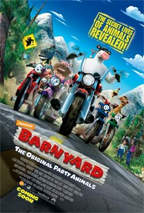 We just got information in from Paramount Home Entertainment that the studio is planning to release the animated feature film Barnyard on DVD this winter.
Moo-ve over, all you pretenders … here are the original party animals – the critters of Barnyard! This laugh-filled, tuneful animated adventure stars Otis (voiced by Kevin James), a carefree party cow. To the consternation of his respected father Ben (voiced by Sam Elliott), Otis is happy to spend his days singing, dancing and playing tricks on humans. But all good things must come to an end, and when Otis is suddenly forced into his father's position of responsibility, the animal antics multiply as he struggles to find the courage and talent to be a true leader. Wild, wacky and "udderly" hilarious, here's a herd of animated pranksters that'll keep you laughing out loud!
Coming in a widescreen and a fullframe version the DVD will also contain a number of kid-friendly bonus materials, such as an All-New Music Video called "Barnyard Bop." Also included is the Mud Music Video and a selection of 7 Deleted Scenes. Further you will find Kevin James' hilarious method acting techniques on the disc to round out the release.
The cows of "Barnyard" will come home on December 12 with a $19.95 sticker price on the udder.