Superman Returns also in high definition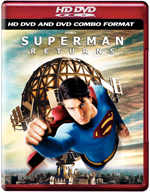 All HD-DVD and Blu-Ray owners out there will be very pleased to hear that Warner Home Video the studio's release of Bryan Singer's Superman Returns will also entail versions for these high definition formats. As we reported earlier, "Superman Returns" is scheduled for a November 28 release.
After a long visit to the lost remains of the planet Krypton, the Man of Steel returns to earth to become the people's savior once again and reclaim the love of Lois Lane.
The HD-DVD version will once again be a HD-DVD/DVD combo disc that contains all of the extras from the DVD versions, such as Deleted Scenes and the Full-length Documentary "Requiem For Krypton: The Making Of Superman Returns" and other extras.
The Blu-Ray version will be reportedly a BD-50 disc which will also allow the inclusion of all the bonus materials.
These high definition versions will be in stores on November 28 and cost $39.98.