Paramount brings My Geisha for Christmas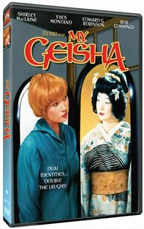 Paramount Home Entertainment has just announced to release the romantic comedy starring Shirley MacLaine and Edward G. Robinson, My Geisha on DVD this December.
Who's that mysterious Oriental beauty? It's Shirley MacLaine!
Meet Lucy Dell (Shirley MacLaine), an enormously popular Hollywood comedienne married to movie-maker Paul Robaix. And meet Yoki Mori (also MacLaine), the recently discovered geisha star of Paul's in-progress film version of Madame Butterfly. Paul doesn't know it yet, but that's no geisha – that's his wife!
Yves Montand (as Paul), Edward G. Robinson and Bob Cummings join MacLaine in the romantic comedy My Geisha. Paul is eager to prove he can make a hit film without his wife. Lucy, however, wants to prove she can handle a dramatic role. So she secretly follows Paul to Japan, dons a disguise and gives a topsy-turvy spin to this delightful, gorgeously filmed comedy of mistaken identities.
The DVD is scheduled for release on December 12.