National Geographic's Amazing Planet hits DVD in January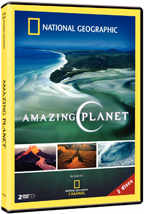 Coming as a 2-disc release, Warner Home Video is bringing the National Geographic's Amazing Planet to DVD in the new year.
Shark alert in the "amazing Planet episode Shark-A-Thon: Alien Adventures Undersea! Something fishy is going on when a great white shark gnaws on the Miptorian spaceship with razorsharp teeth! Captain Rip Rayon and his alien crew are looking forward to a day at the beach but instead stumble into the world of super sleek sharks! Their adventure includes: electrifying news about shark super-senses; why sharks don't have bones but do have unbelievable teeth – ouch!; a rare encounter with the biggest fish on the planet; and close-up looks at baby sharks just learning to swim.
Packaged as a 2-disc Amaray case, "amazing Planet" will be in stores on January 9 and can be yours for only $29.98.