More High Def titles from the studios.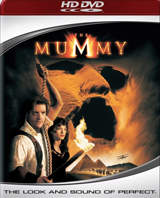 An American Werewold in London, The Mummy (1999), Meet the Parents, and David Lynch's Dune (the theatrical edition) are coming to HD-DVD from Universal Studios Home Entertainment. Still a mixed bag, but there are some nice showcase pieces.
The titles are all coming on November 28th with a $29.98 suggested retail price except for Werewolf, which will be a combo disc and will retail for $34.98.
Meanwhile, over at Buena Vista Home Entertainment, Annapolis, Casanova, Flightplan, Goal!, Sky High and The Wild are coming to Blu-Ray on the 21st of November. No word on any extras on these titles yet but we will keep you up to date, of course.