Make way for The Ant Bully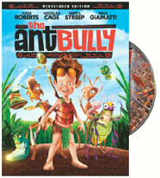 The computer animated The Any Bully will be coming to DVD from Warner Home Entertainment along with some nice extras.
The new DVD arrivs in anamorphic widescreen along with a Dolby Digital 5.1 soundtrack. The extras include deleted scenes, a featurette, seven animated shorts and DVD-ROM content.
Look for a suggested retail price of $28.98 when the disc arrives on November 28th.