Love's Abiding Joy appears in January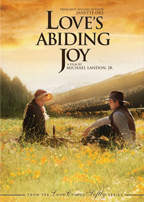 Directed by Michael Landon Jr, 20th Century Fox Home Entertainment has scheduled his made-for-TV film Love's Abiding Joy first thing in the new year.
The fourth entry in the "Love" series loosely based on the Janette Oke books finds frontier family the LaHayes slapped in the face by adversity. After their baby girl dies and Missie resigns from the schoolhouse in despair, Willie accepts the risky job of sheriff. Wrestling with grief and basic survival, hard times force them to lean on each other harder than ever. It's a bit darker than the usual Hallmark fare, but it is right down the lines of "Little House On The Prairie."
The DVD version will contain a 1.78:1 widescreen and a fullscreen version of the film complete with a Dolby Surround audio track. The release will only contain a trailer as an extra.
Hallmark's "Love's Abiding Joy" will come to DVD on January 2 with a $26.98 sticker price.