Layer Cake makes its Blu-Ray debut in November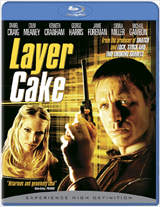 Fans of Matthew Vaughn's thriller Layer Cake should mark their calendars because we just got information from Sony Pictures Home Entertainment about the impending Blu-Ray release of the movie.
Planning to retire and begin a new life, Mr. X (Daniel Craig), a successful West End drug dealer, has been asked for one last favor: to negotiate the sale of one million hits of Ecstasy. Unfortunately for Mr. X, the pills were stolen from a Serbian drug lord who'll cut off his head if he sells them. And with a London crime czar (Michael Gambon)promising to retire him permanently if he doesn't, Mr. X may be rightfully concerned about his future. Nothing worth losing his head over.
The release will feature an Uncompressed PCM 5.1 Channel Audio Track in English as well as English and French Dolby Digital tracks.
In terms of bonus materials the Blu-Ray version will mimic the DVD release from last year and offer up a number of supplements such as Deleted Scenes and Alternate Endings as well as a Commentary Track with director Matthew Vaughn and writer J.J. Connolly, as well as the Q&A Screening with the director and actor Daniel Craig.
"Layer Cake" will be in stores on November 14 for $28.95.