Home Alone returns to DVD for Christmas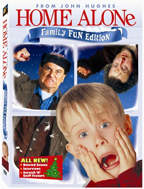 20th Century Fox Home Entertainment has just revealed details about another re-release of the family comedy Home Alone, scheduled for November.
Eight-year-old Kevin McCallister (Macaulay Culkin) has become the man of the house, overnight! Accidentally left behind when his family rushes off on a Christmas vacation, Kevin gets busy decorating the house for the holidays. But he's not decking the halls with tinsel and holly. Two bumbling burglars are trying to break in, and Kevin's rigging a bewildering battery of booby traps to welcome them!
"Home Alone: The Family Fun Edition" will feature the movie in an anamorphic widescreen presentation with audio tracks in English, French and Spanish. The release is loaded with extras, such as a Commentary Track by director Chris Columbus and Macaulay Culkin. Further included are the 1990 Press Featurette and The Making Of Home Alone. Mac Cam: Behind The Scenes With Macaulay Culking is also included, as well as a Stunt Featurette called "How To Burglar-Proof Your Home."
Other Featurettes on the release are called "Home Alone Around The World," "Where's The Buzz Now?" and "Angels With Filthy souls."
15 Deleted and Alternate Scenes are also loaded onto the DVD together with a Blooper Reel and Trailers. Last but not least the DVD will also contain three Games.
"Home Alone: The Family Fun Edition" makes its appearance in stores on November 21 with a $19.98 price tage.