DVD: From the Files of Police Squad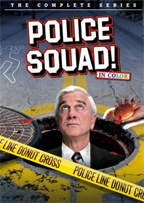 The 1982 show Police Squad was cancelled after only six episodes in 1982, which normally means it would have faded into complete obscurity. But the movie Naked Gun changed all that. 24 years after it's tv premiere, the show comes to DVD for the first time.
The set will contain some audio commentaries, bloopers, interviews, a featurette on the shows ridiculous freeze frames, photo galleries Celebrity Death Shots, and production notes.
The set arrives on November 7th. Put a siren on your car and go down to the store to get it.