Brace yourself for Exorcist: The Complete Anthology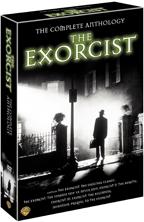 Warner Home Video has just unveiled plans for a horror box set to hit retail in October, entitled the Exorcist: The Complete Anthology.
Here it is! The scream of the crop. The fear is here. And so is the hope. Because at their center are intrepid souls who dare to look evil in the eye and vanquish it. From The Exorcist (presented in its Original Theatrical Version and the 2000 Version You've Never Seen) to the shocks and surprise of Exorcist II: The Heretic and The Exorcist III to the two versions (by two different directors) of Dominion/The Beginning, this DVD set comprises the scariest and most fascinating collection of movies in modern horror.
Coming as a 6-disc box set, the release also offers up all the extras that were part of the original releases of these films. It will be in stores in time for Halloween, on October 10 with a $42.92 price tag.