Black Hawk Down turns Blu in November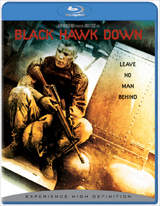 We just got word that Sony Pictures Home Entertainment will be releasing a Blu-Ray version of Ridley Scott's Black Hawk Down in November, pushing the envelope of the format quite a bit!
From acclaimed director Ridley Scott (Gladiator, Hannibal) and renowned producer Jerry Bruckheimer (Pearl Harbor, Armageddon) comes a gripping true story about bravery, camaradarie and the complex reality of war. Black Hawk Down stars an exceptional cast including Josh Hartnett (Pearl Harbor), Ewan McGregor (Moulin Rouge!), Tom Sizemore (Saving Private Ryan), Eric Bana (Chopper), William Fichtner (The Perfect Storm), Ewen Bremner (Snatch) and Sam Shepard (All The Pretty Horses). In 1993, an elite group of American Rangers and Delta Force soldiers are sent to Somalia on a critical mission to capture a violent warlord whose corrupt regime has lead to the starvation of hundreds of thousands of Somalis. When the mission goes terribly wrong, the men find themselves outnumbered and literally fighting for their lives.
Timed for release with the launch of the Playstation 3 the Blu-Ray version will come with a 2.35:1 1080p transfer and uncompressed 5.1 PCM audio tracks in English and French and a variety of subtitle options.
As extras the disc will contain a U.S. Special Forces "93 Veterans" Commentary Track as well as a Author & Screenwriter Commentary and a Producer & Director Commentary. Also included is the History Channel Documentary "The True Story Of Black Hawk Down" and the Featurettes "The Essence Of Combat" and "Image & Design."
The release will be rounded out by footage from various Q&A Forums including the BAFTA, Editor's Guild and American Cinematique. A selection of Deleted Scenes will also be included.
"Black Hawk Down" will be in stores on November 14 with a powerfully low $28.95 price tag!!!