BCI unleashes She-Ra in season box sets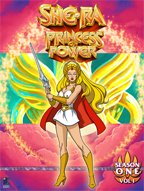 This morning we got information from BCI that the independent studio is preparing She-Ra: Princess Of Power – Season One, Volume One for release on DVD in November.
"She-Ra: Princess of Power – Season One, Volume One, " is the initial release in a three-volume set that will include all 93 original episodes of the popular animated saga. All three volumes put together will feature a unique She-Ra "spine art mural."
Volume 1 will come as a 6-disc DVD set containing the first 33 episodes of the show as well as a wealth of extras to add further value to the release, starting with Commentary Tracks, hosted by Andy Mangels, for the episodes "The Sea Hawk" and "King Miro's Journey with writers Larry DiTillio, J. Michael Straczynski, editor Rick Geher and storyboard creator Michael Swanigan.
Also included is the Documentary "The Stories of She-Ra, Part 1" and Storyboard-to-Episode Comparison for episode one, "Into Etheria." Art cards by Dave Johnson and Humberto Ramos are also included as well as 50 Character Profiles. The DVD is rounded out by an Interactive Game a Trivia, an Episode Guide Booklet and a Coloring Book.
"She-Ra: Princess of Power – Season One, Volume One" will be released on November 7 and can be your for only $49.98.