Anybody can wish for Prada for Christmas this year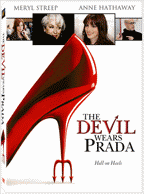 20th Century Fox Home Entertainment just unveiled details about the upcoming DVD release of The Devil Wears Prada scheduled in time for Christmas.
Based on the hilarious best-selling novel, this is the sinfully funny movie starring Academy Award-winner Meryl Streep and Anne Hathaway that was quite a smash at the box office. As assistant to impossibly demanding New York fashion magazine editor Miranda Priestly (Meryl Streep), young Andy Sachs (Anne Hathaway) has landed a job that "a million girls would die for." Unfortunately, her heaven-sent appointment as Miranda's personal whipping girl just might be the death of her!
The DVD will come as a flipper disc featuring both the 2.35:1 anamorphic widescreen transfer and a pan&scan version on the same DVD. As extras the studio serves up a Commentary Track with Director David Frankel, Producer Wendy Finerman, CostumeDeisgner Patricia Field, Screenwriter Aline Brosh McKenna, Editor Mark Livolsi, and Director of Photography Florian Ballhaus. In addition, the release will contain a number of Featurettes, such as "Trip to the Big Screen," "NYC and Fashion," "Fashion Visonary Patricia Field," and "Getting Valentino".
A selection of 15 Deleted Scenes will also be included as well as the movie's Theatrical Trailer and a Gag Reel.
"The Devil Wears Prada" will be in stores on December 12 with a very affordable $29.98 price tag attached to it.