A DVD Is Born in November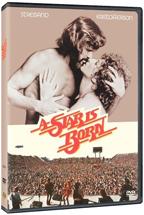 The 1977 remake of the 1954 Judy Garland classic A Star Is Born, starring Barbra Streisand and Kris Kristofferson, is scheduled for a release in late November finally, coming to DVD for the very first time.
The story centers around rock star John Norman (Kristofferson) whose career has peaked. One night, after a concert, he stumbles into a club where he sees a singing group fronted by young singer Esther Hoffman (Streisand). The two quickly fall in love, although Esther has trouble with John's rock star lifestyle. One night, a typically burned-out John lets Esther sing a few songs at one of his shows and before long she's the talk of the record business. While Esther's star begins to rise, John's continues to sink, and while she desperately tries to help him clean up and focus on his music, it may be too late to save him.
The deluxe presentation from Warner Home Video of this box-office blockbuster based on the original screen love story includes an all-new Commentary Track from Streisand (who not only starred in the film, but produced it as well), a remastered Dolby Digital 5.1 soundtrack, additional scenes and wardrobe tests, also with Streisand commentary.
"A Star Is Born" will be in stores on November 28 for $19.97.