Warner sends Abbott & Costello to DVD this fall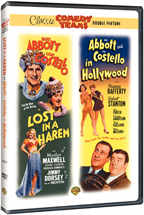 We just got information about Warner Home Video's plans to release an Abbott & Costello double-feature DVD this November, featuring the films Abbott & Costello: Lost in a Harem and Abbott & Costello in Hollywood.
Buzz (Bud Abbott) and Abercrombie (Lou Costello) work in a Tinseltown haircut salon where they usually just take a little off the side. But why not take 10% off the top instead? So the fellas become movie talent agents, setting in motion the lights-camera-comedy antics of "Abbott and Costello in Hollywood," including Costello being mistaken for a prop dummy during the filming of a saloon brawl, Bud and Lou coping with insomnia, and a pursuit finale in the cars and on the tracks of a roaring roller-coaster.
You'll also find "Lost in a Harem." Locked in is more like it, as the two land in the hoosegow twice, where their timing, repartee and monkeyshines shine. Douglas Dumbrille plays the evil potentate who uses hypnosis against the boys, making this a tale of Arabian daze and nights. The grand wazir orders you to watch!
The movies' Theatrical Trailers will be the only extras contained on this double-feature disc.
The DVD will be in stores on November 21 with a very friendly suggested retail price of only $14.98.