Warner bows The Lake House on all formats day and date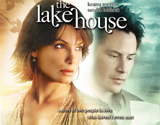 Aggressively working the high definition formats, Warner Home Video will soon be the first studio to release a new title day and date on DVD, HD-DVD and Blu-Ray. The Lake House starring Christopher Plummer, Keanu Reeves and Sandra Bullock will be the title of honor for the occasion.
A lonely doctor (Sandra Bullock) who once occupied an unusual lakeside home begins exchanging love letters with its newest resident, a frustrated architect (Keanu Reeves). When they discover that they're actually living two years apart, they must try to unravel the mystery behind their extraordinary romance before it's too late.
The release will be available as a widescreen and a separate fullscreen version on DVD, as well as a HD-DVD combo – another format that Warner has been the first to explore and a BD-25 single-layer Blu-Ray version. Currently no specs on bonus materials are available but will be announced shortly.
"The Lake House" is scheduled for arrival on September 26. The DVD versions will have a $26.98 sticker price, the HD-DVD/DVD combo will cost $39.95 and the blu-Ray version will have a $34.99 price tag. Take your pick!