Warner announces another batch of HD-DVD titles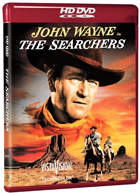 Warner Home Video has just announced another batch of very cool HD-DVD titles, slated for release on August 22. The line-up includes a HD-DVD version of Caddyshack as we had pointed out earlier already, as well as a HD-DVD/DVD combo of George Clooney's incredible Good Night And Good Luck. The biggest surprise and probably one of the coolest films in the line-up is the John Wayne Western The Searchers that is also making its HD-DVD debut here.
All films will also include the special features found on their DVD counterparts, which in the case of "The Searchers" means that you will find the supplements from the 2-disc Collector's Edition presented here alongside a high definition version of this spectacularly restored film. Frankly, I cannot wait to see this!
All three titles will be in stores on August 22 and carry a suggested retail price of $28.99, while "Good Night And Good Luck" will be priced at $39.98.