Universal unleashes Slither in high definition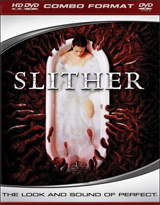 We just got word about Universal Home Entertainment's plans to release the horror shocker Slither on DVD and HD-DVD just in time for Halloween.
The release will come as a DVD version as well as a combo HD-DVD, containing the high definition version of the movie as well as the DVD version on the same disc. The film will be presented in its original 1.85:1 widescreen aspect ratio, of course, with 5.1 channel Dolby Digital tracks in English, French and Spanish.
Both versions of the release release will be filled with bonus materials, such as a Commentary Track, a selection of Deleted Scenes and Extended Scenes. Further, look for a Gag Reel as well as a Documentary and various Featurettes. It will also include a VFX Progression Reel set to the music of The Raymakers and an On-Set Video Diary among other things.
The HD-DVD combo will be priced at $39.99, while the DVD versin will set you back $29.98 when it hits retail stores on October 24.