The fourth season of Starsky & Hutch is headed for DVD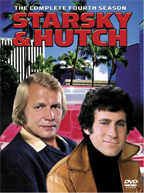 Sony Pictures Home Entertainment has just announced plans to release Starsky & Hutch: The Complete Fourth Season on DVD this fall.
Starring Paul Michael Glaser and David Soul as a pair of unorthodox, streetwise detectives, Starsky & Hutch captivated audiences for 93 episodes over four seasons and became one of ABC's top-rated shows. The engaging camaraderie and humorous banter between the two stars made Starsky & Hutch pop icons who paved the way for other popular buddy cop series such as "CHiPs" and "Miami Vice."
Now Sony Pictures Home Entertainment is releasing the fourth an final season of the show on DVD. The 5-disc DVD set will contain all 22 episodes from the final season but no extras will be found on the release.
"Starsky & Hutch: The Complete Fourth Season" will be in stores on October 17 and carry a suggested retail price of $49.95.