The ER is on alert for their sixth season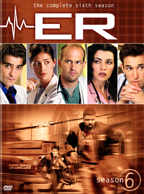 We just got information from Warner Home Video about their plans to release ER: The complete Sixth Season on DVD this winter.
The show's sixth season continues the heart pounding action as Dr. Greene (Anthony Edwards) and Dr. Weaver (Laura Innes) conflict over who should be named the new chief. In the end, Weaver is named chief of staff and creates a new regime at County General Hospital. Despite the outcome, not all is wrong for Dr. Greene who heats up his romance with Dr. Corday (Alex Kingston) while Dr. Weaver enjoys the best year of her life with her new promotion.
But tragedy strikes again as the doctors, who are accustomed to dealing with death on a daily basis, must face the death of one of their own. An emotionally unstable patient devastates the ER when he stabs Lucy (Kellie Martin) and Carter (Noah Wyle). From this point on, the ER will never be the same.
The release will contain all the episodes from the show's sixth season in anamorphic widescreen as well as a selection of never-before-seen Deleted Scenes and a Gag Reel.
The 6-disc DVD set will be in stores on December 12 and carry a $49.98 suggested retail price.