Paramount releases the first season of the original Mission: Impossible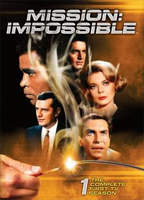 We just got information from Paramount Home entertainment that the studio has scheduled the original TV series Mission: Impossible for release in December. "Mission: Impossible: The Complete First Season" starring Martin Landau, Barbara Bain, Steven Hill, Peter Lupus, and Greg Morris is one of the most acclaimed and beloved classic TV mystery and action series.
The head of the "Impossible Missions Force", a top-secret government group of operatives, starts a tape recorder and finds out about his latest assignment. Throughout most of the series, they would have to stop some petty dictator or powerful bad guy from whatever evil plot they had against the U.S. or Democracy in general. The elaborate use of electronic gadgetry, masters of disguise and detailed plans that require split-second timing made this TV show an "on the edge of your seater"!
Coming as a 7-disc DVD set that contains all 28 episodes of the show's first season, "Mission: Impossible: The Complete First Season" will offer over 23 hours of gripping entertainment when it hits retail stores on December 5. the show will be presented in its original fullframe aspect ratio and come with a newly remixed 5.1 channel Dolby Digital audio track
Brace yourself for impact of this great DVD set on December 5 and hold on to it, because this box set will self-destruct in 5 seconds… just kidding, of course.