Madame Curie enters her lab in January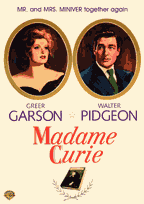 It is hard to believe but here we are reporting the first release announcement for January 2007 already! Warner Home Video has scheduled Madame Curie for release on January 30, portraying the work and life of the famed scientist as she explored radioactivity and its effects.
Perennial co-stars Greer Garson and Walter Pidgeon followed their triumph in the Oscar-winning Mrs. Miniver, with this memorable biographical classic. Garson portrays the young Polish physics student Marie, who soon falls in love with and marries Dr. Pierre Curie (Walter Pidgeon), in whose lab she had worked. On their honeymoon they decide to investigate a strange effect Professor Becquerel (Reginald Owen) has noticed with the uranium/thorium stones for Marie's dissertation, and they determine there must be additional radioactive elements causing it. After years of experimentation in a makeshift lab at the University, they are finally able to isolate a few grains of a new element, radium, from 7 tons of raw material. Unfortunately, at the height of their success, tragedy strikes. The grand success of Madame Curie continued Garson's winning streak as one of the biggest box-office stars of the decade.
Featuring the original fullframe version of this 1943 classic film, the DVD also contains the 1937 MGM Short Film "The Romance Of Radium," a Greer Garson Trailer Gallery as well as the movie's Theatrical Trailer.
"Madame Curie" will be available on January 30 for a friendly $19.95.