Ice Age: The Meltdown hits DVD in November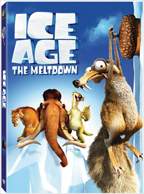 20th Century Fox Home Entertainment' is putting together a truly spectacular version of Ice Age: The Meltdown for release in November, filling up the DVD to seemingly the very last bit.
Your favorite sub-zero heroes are back for another incredible adventure in the super-cool animated comedy Ice Age the Meltdown! The action heats up—and so does the temperature—for Manny, Sid, Diego and Scrat. Trying to escape the valley to avoid a flood of trouble, the comical creatures embark on a hilarious journey across the thawing landscape and meet Ellie, a female woolly mammoth who melts Manny's heart. With its dazzling animation, unforgettable characters and an all-new Scrat short, Ice Age: The Meltdown is laugh-out-loud fun for the whole family!
Apart from the feature film, the DVD release will be packed with bonus materials. First up there will be Commentary Tracks by Director Carlos Saldanha, Producer Lori Forte and the Production Team. Also included is another all-new Scrat Short Film entitled "No Time for Nuts." 3 Short all-new Crash & Eddie Stunt Shorts will also be part of the release, alongside with Crash & Eddie Bloopers. A number of Featurettes will be found on the release also, such as "Meet Ellie" and "Meet Crash and Eddie" and a number of Lost Historical Films on the Ice Age Period: The Sloth "Nature's Lovable Lisper,"
The Wooly Mammoth "Nature's Beast of Burden," The Saber-Tooth Squirrel "Nature's Nutty Buddy," The Saber-Tooth Tiger, "Nature's Fearsome Feline," The Vulture "Nature's Cleaners," The Possum "Nature's Spunky Spectacles".
A separate featurette will cover Silly Sid & John Leguizamo while The Animation Director's chair will give you a look at storyboards, animations and final versions of a few selected scenes from the film.
To make things complete there will be a Sloth Dancing to Sid's Sing-a-Long and a look at the Marketing of Ice Age, including footage of Scrat appearing on "Family Guy" and Sid hosting "Domination Line up." A number of Set Top Games will also be found on the disc, as well as an Inside Look at The Simpsons: The Movie.
"Ice Age: The Meltdown" will be in stores on November 21 with a suggested retail price of $29.98.