Here are the final specs for Forbidden Planet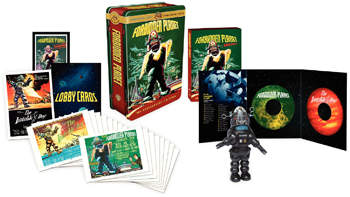 The SciFi cult classic Forbidden Planet is coming back to DVD in a 50th Anniversary Edition, as we pointed out earlier already. We finally got the final specs of the release in and can also give you a look at the cool packaging of the Collector's Edition version of the release from Warner Home Video.
A dutiful robot named Robby speaks 188 languages. An underground lair offers evidence of an advanced civilization. But among Altair-4's many wonders, none is greater or more deadly than the human mind. Forbidden Planet is the granddaddy of tomorrow, a pioneering work whose ideas and style would be reverse-engineered into many cinematic space voyages to come. Leslie Nielsen plays the commander who brings his spacecruiser crew to the green-skied world that's home to Dr. Morbius (Walter Pidgeon), his daughter (Anne Francis)…and to a mysterious terror. Featuring sets of extraordinary scale and the first all-electronic musical soundscape in film history, Forbidden Planet is in a movie orbit all its own.
Coming as a 2-disc Special Edition and an Ultimate Collector's Edition, the release will
contain both the 1956 movie itself in a fully restored version that should look like a million bucks, as well as the 1957 feature film "The Invisible Boy." Filled with loads of extras, you will also find Deleted Scenes on the release, as well as Lost Footage. Look for the MGM Parade Excerpts from the 1955 TV show as well as the TV episode Robot Client from the The Thin Man show.
In addition to these, you will find the 2005 TCM Documentary "Watch The Skies!" on the release, which is complemented by the Featurettes "Amazing!:" Exploring The Far Reaches Of Forbidden Planet" and "Robby Robot: Engineering A Scf-Fi Icon.
Both versions will have the same disc contents, but the Ultimate Collector's Edition will also include a Robby The Robot action figure, reprinted lobby cards and a mail-in coupon for the movie's poster, all neatly packaged up in a tin case.
This new special edition of "Forbidden Planet" will be available in stores on November 14. The 2-disc Anniversary Edition will have a $26.99 price tag, while the Tin Collector's Edition will set you back $59.92.