Harry Potter And The Goblet Of Fire is coming to HD-DVD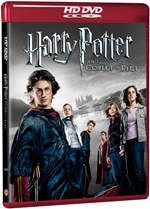 We have just gotten word from Warner Home Video that the studio is currently preparing the release of Harry Potter And The Goblet Of Fire for HD-DVD shortly.
When Harry Potter's name emerges from the Goblet of Fire, he becomes a competitor in a grueling battle for glory among three wizarding schools – the Triwizard Tournament. But since Harry never submitted his name for the Tournament, who did? Now Harry must confront a deadly dragon, fierce water demons and an enchanted maze only to find himself in the cruel grasp of He Who Must Not Be Named. In this fourth film adaptation of J.K. Rowling's Harry Potter series, everything changes as Harry, Ron and Hermione leave childhood forever and take on challenges greater than anything they could have imagined.
The 157-minute movie will come as a HD-30 HD-DVD to allow enough room for the feature film and the special features that are being culled from the DVD Special Edition. The movie will be presented in a 1080p transfer in its 2.40:1 widescreen aspect ratio complete with an English Dolby TrueHD audio track as well as a 5.1 channel Dolby Digital Plus track as well as regular 5.1 channel Dolby Digital tracks in English, French and Spanish.
As extras you will find another In-Movie Expereince on the release, allowing you to view the movie with a separate video stream running alongside, offering up background information. Also included are Additional Scenes, Conversation With The Cast, Preparing For The Yule Ball, Refelctions On The Fourth Film, Meet The Champions, Harry Vs. The Horntail: The First Task, In Too Deep: The Second Task, The Maze: The Third Task and He, Who Must Not Be Named, all of them featurettes about the making and background of the movie. To round out this powerful release you will find a Harry Potter Timeline and the movie's Trailer on the release.
We have not yet been able to confirm a street date for this disc, but expect it to show up very soon!