Army Of Darkness is going HD-DVD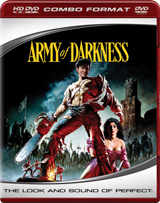 Also from Universal Home Entertainment, perfectly timed for Halloween, comes on of the studio's biggest modern trash cult classics, Sam Raimi's Army Of Darkness!
After having seen truly countless incarnations on DVD, "Army Of Darkness" will now make its high definition debut in October. The HD-DVD release will contain a 1080p high def transfer of the movie, as well as a standard definition DVD version on the disc's flip side.
Bound in human flesh, inked in blood – and amazingly hard to pronounce – the ancient "Necronomicon" (Book of the Dead) unleashes unspeakable evil upon mankind in director Sam Raimi's outrageously hilarious sword-and-sorcery epic.
Back to do battle with the hideous "Deadites," Bruce Campbell reprises his role from the Evil Dead series as Ash, the handsome, shotgun-toting, chainsaw-armed department store clerk from S-Mart's housewares division. Demonic forces time warp him – and his '73 Oldsmobile – into England's Dark Ages, where he romances a beauty (Embeth Davidtz) and faces legions of undead beasts, including a ghastly army of skeletons. Can Ash save the living from the evil dead, rescue his girlfriend, and get back to his own time?
No exact features have been announced for the release and it is also unknown at this time, which version of the film will be presented here. Since it is a Universal release, however, one can assume that it will be the regular theatrical cut of the film. It is also safe to assume that none of the Anchor Bay produced special features from previous releases will be included here. Most likely we will find here the special features from the 2003 DVD version released by Universal, which included merely Biographies, and the movie's Trailer.
"Army Of Darkness" will be available on HD-DVD on October 10 with a $34.98 sticker price.