Anyone afraid of Virginia Woolf?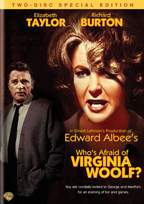 We just got word that Warner Home Video is planning to release a Special Edition of Mike Nichols' 1966 drama Who Is Afraid Of Virginia Woolf? in December, starring Elizabeth Taylor and Richard Burton in some of their careers' greatest roles.
New Biology instructor Nick and his wife Honey visit the campus home of burned-out History professor George and his viperish wife Martha. Exchange of late-night pleasantries turns into an ugly battle of words between George and Martha who use their guests to cut each other more and more deeply.
Coming as a 2-disc DVD set the release will contain the movie in its original 1.85:1 widescreen aspect ration in an anamorphic transfer, complete with the original mono audio track of the film. No extras have been announced yet.
The film will also be available as part of a $49.99 Elizabeth Taylor & Richard Burton Film Collection box set, which also contains "The Comedians," "The Sandpiper" and "The VIPs." This film will be also sold separately for $26.99 and will be available on December 5.