AC/DC make it to DVD in October in a documentary review of Back In Black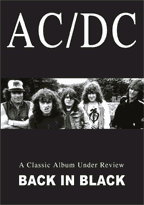 Music Video Distributor is adding another very cool release to their line-up by adding AC/DC – A Classic Album Under Review: Back In Black to their catalog.
This DVD documentary is the ultimate review and critical analysis of AC/DCs most influential and successful album. With the entire album dissected track by track, and with rare footage, band interviews and live performances all under the gaze of our panel of esteemed experts, this could be the most thorough exploration of this band yet.
This DVD contains a number of rare musical performances as well as comments, criticism and insight from a number of music industry people, including Tony Platt, the album's engineer, rock journalist, "Total Rock FM" DJ and AC/DC expert, Malcolm Dome, AC/DC biographer Paul Stenning, "Classic Rock" magazine's Jerry Ewing, "BBC 6 Music" DJ Jane Gazzo, AC/DC author Clinton Walker and many more. They all discuss this milestone album in the light of the events that lead up to it and the healing process it put in motion for band, helping them to cope with the death of their long-time friend and front man Bon Scott.
In addition, the featurette "Tony Platt In The Studio With AC/DC," and "The Hardest AC/DC Back In Black Quiz In The World Ever" will be included on the release, as well as full contributor biographies and a 'Beyond DVD' section.
"AC/DC – A Classic Album Under Review: Back In Black" will be in stores on October 31 with a $19.95 price tage.