A Looney Tunes Christmas makes a showing on DVD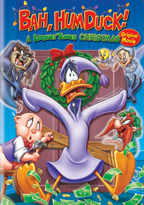 The ghosts of Christmas past, present and future are back, Looney Tunes style, when Warner Home Video releases Bah, Humduck! A Looney Tunes Christmas on DVD in November.
Daffy Duck stars as the "Scrooge-like" proprietor of the "Lucky Duck" mega-mart in this all new, first ever Looney Tunes made-for-video movie based on the classic holiday tale, A Christmas Carol. To take financial advantage of last minute shoppers, Daffy demands that his employees, including his long suffering manager, Porky Pig, work on Christmas Day instead of spending the holiday with their families. It's up to Bugs Bunny and the ghosts of Christmas past (Tweety and Granny), present (Yosemite Sam) and future (Taz) to make sure that Daffy realizes the error of his ways and save Christmas for the Looney Tunes gang.
The release will present the 46-minute film in its original fullframe presentation with Dolby Digital 5.1 audio tracks. As extras the release also contains Additional Scenes and The Lucky Duck Dilemma Menu Challenge.
"Bah, Humduck! A Looney Tunes Christmas" will be in stores on November 14 with a suggested retail price of $19.98.