Welcome Master Of Horror Dario Argento in August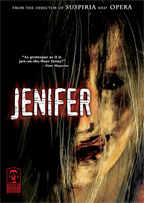 The next entry in Anchor Bay's Masters Of Horror line-up is now making its way to DVD in the form of Dario Argento's Jenifer.
Dario Argento¹s "Jenifer, " adapted from the comic book written by Bruce Jones and illustrated by Bernie Wrightson, is the shocking tale of a modern-day Lolita who, through her siren-like powers, ultimately destroys the bodies and souls of all men unfortunate enough to cross her path. After a police officer (played by Steven Weber, who also adapted the story for the screen) saves her life, he adopts her, only to learn that in any universe created by a Master of Horror no good deed goes unpunished! Twisted and terrifying, "Jenifer" also features unforgettable makeup effects by Oscar-winning makeup artist Howard Berger.
Apart from a 1.77:1 widescreen presentation of the film, the DVD will contain the Featurettes "So Hideous My Love," featuring an interview with Dario Argento, as well as "Working With A Master: Dario Argento."
On-set interviews with Steven Weber and Carrie Anne Fleming are also included, as well as a Script To Screen Feature and a Behind The Scenes Featurette on the making of "Jenifer."
A Commentary Track by writer/actor Steven Weber and DVD Producer Perry Martin will also be included, as well as a look at Howard Berger And The Make-Up of Jenifer. The release is rounded out by Trailers, a Still Gallery, Dario Argento Bio and the movie's Screenplay and Screensaver for DVD-ROM users.
"Jenifer" will come to stores on August 15 with a suggested retail price of $16.98.