Warner Home Video is bringing Poseidon to DVD and HD-DVD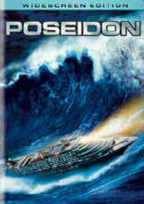 Warner Home Video has certainly generated some headlines in the past days with various announcements in the high definition arena, and yet, they are not done. This morning we just got information that Warner will debut Wolfgang Petersen's Poseidon on DVD and HD-DVD – and presumably Blu-Ray – later this year.
When a rogue wave capsizes a luxury cruise ship in the middle of the North Atlantic Ocean, a small group of survivors find themselves unlikely allies in a battle for their lives. As the unstable vessel rapidly floods with water, they face unimaginable odds and life-altering decisions in their desperate fight to the surface.
Featuring the movie in its original 2.35:1 widescreen aspect ratio the movie will be complemented by audio tracks in English, French and Spanish. No bonus materials have been announced yet but the release should be expected to contain at least some basic making of material and a commentary track by Wolfgang Petersen.
The DVD version of "Poseidon" will be in stores on August 22 with a suggested retail price of $28.98 while the HD-DVD version will appear in stores on December 5 with a price tag of $34.98.