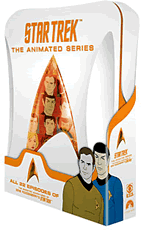 Before DVD, owning an entire television series on home video seemed a ridiculous concept. But a few die hard fans and clubs raised the money and the shelf space for the entire original Star Trek series on VHS. Now with DVD, owning complete series is commonplace, but those original Trek fans still had quite a task before them to own the vast library which is Star Trek. 28 box sets and ten 2-disc movies and a handful of Best Buy exclusive discs later, that collection is nearly complete for some. Now the final piece of the puzzle is coming from Paramount Home Entertainment with the release of Star Trek The Animated Series: The Complete Series on DVD this fall.
Creator Gene Roddenberry's animated version of Star Trek features the voices of nearly the entire cast of the original live-action series, including William Shatner, Leonard Nimoy, DeForest Kelley, George Takei, James Doohan, Nichelle Nichols and Majel Barrett, as they embark on the further adventures of the U.S.S. Enterprise. Comprised of 22 episodes, the four-disc set includes the Peabody award-winning episode "How Sharper Than a Serpent's Tooth," Walter Koenig's "The Infinite Vulcan," which was the first episode ever written by a Star Trek cast member, as well as a number of episodes that serve as sequels to original Star Trek episodes.
The box set will includ the episodes with their original mono as well as newly mixed Dolby Digital 5.1 sound as well as the featurettes Drawn to the Final Frontier – The Making of Star Trek: The Animated Series and What's the Star Trek Connection?, a photo gallery, a show history, text commetaries by Michael and Denise Okuda and DVD ROM content (ironically, a first for Trek discs).
The set will arrive on November 21st for $35.00.