Sony Pictures Home Entertainment releases The Big Hit on Blu-Ray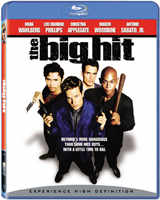 This morning we also got information on Sony Pictures Home Entertainment's plans to release a Blu-Ray version of the action comedy The Big Hit, starring Mark Wahlberg, Lou Diamond Phillips and Christina Applegate.
The criminal anarchy is hilarious when a foursome of full-time hit men looking to score extra cash kidnap the boss' goddaughter. And when beleaguered wise guy Mel is set up to take the fall, underworld antics and domestic absurdities collide for a working weekend no one will soon forget.
The release will feature the movie in its original 1.85:1 widescreen aspect ratio and come with 5.1 uncompressed PCM audio tracks in English and French. As extras the release features two separate Commentary Tracks featuring director Kirk Wong and writer Ben Ramsey, respectively.
"The Big Hit" will make its Blu-Ray debut on September 19 with a $28.95 suggested retail price.