Silent Hill comes to your home in August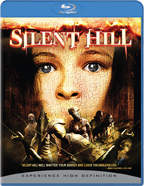 We have just been able to obtain information about Sony Pictures Home Entertainment's plans to release silent Hill this fall on a variety of formats, including DVD, Blu-Ray and UMD for the PSP.
Based on the best-selling horror action game, Silent Hill stars Radha Mitchell as Rose, a desperate mother who takes her adopted daughter, Sharon, to the town of Silent Hill in an attempt to cure her of her ailment. After a violent car crash, Sharon disappears and Rose begins her desperate search to get her back. She descends into a fog of smoldering ash and into the center of the twisted reality of a town's terrible secret. Pursued by grotesquely deformed creatures and a townspeople stuck in permanent purgatory, Rose begins to uncover the truth behind the apocalyptic disaster that burned the town 30 years back. Dare to step inside the horrific town of Silent Hill, where darkness preys on every soul and Hell's creations await around every corner. But know that once you enter… there is no turning back.
The DVD version, which will be sold independently as widescreen and fullframe versions, will contain a number of bonus materials, in the form of six featurettes. "Silent Hill Origins," "Casting Silent Hill," "Building Silent Hill," "Stars And Stunts," "Creatures Unleashed" and "Creature Choreography" are the titles of these featurettes whose contents should be pretty self-explanatory. In addition the release will feature some Previews on other movies.
Interestingly, the Blu-Ray version will be devoid of these bonus materials and feature only previews according to Sony's information, while the UMD version will not contain any extras at all.
"Silent Hill" will be in stores on August 22 and the DVD and UMD versions will carry a $28.98 price tag while the Blu-Ray version will come with a $39.98 sticker price. I am not sure about you, but paying a $10 premium for a version that doesn't even contain extras seems a bit steep, but of course your mileage may vary.