Season 3 of The OC arrives in October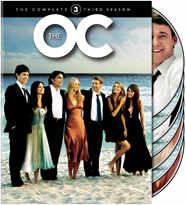 We just got information from Warner Home Video that the most recent season of The OC will be coming to DVD this fall.
Senior year. Prom. Graduation. College visits. Old friends. New problems. And plenty of Korean popstars. Ryan's savior complex becomes a recipe for disaster. Seth and Summer's relationship hits the rocks thanks to Seth's compulsion to edit the truth. As Kirsten attempts to put her life back together, Sandy assumes leadership of the Newport Group and finds himself the heir-apparent to Caleb Nichol's legacy of scandal. Marissa spirals out of control after little sis Kaitlin – a Julie Cooper in the making – returns home to stir the pot. And speaking of Julie Cooper, she's cast out of her Palace – into the slums of the OC. No sign of senioritis here. All 25 episodes lead to the most schocking season finale yet.
Coming as a 7-disc DVD set, the release features all 25 episodes with a running length of 1089 minutes, of course, as well as some cool bonus materials to spice up the release. As such you will find the "Making Of The Subways" Music Video on the release as well as the Featurettes "What's In A Name" and "From Script To Screen." A Scene-Surfing Commentary will also be included.
"The OC: Season 3" will be in stores on October 24 with a $69.98 sticker price.