Point Break returns in a Pure Adrenaline Edition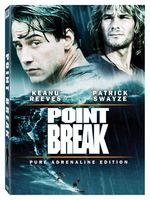 Fans of Kathryn Bigelow's amazing action thriller "Point Break will be pleased to hear that 20th Century Fox Home Entertainment will put a new Special Edition of the film on store shelves this fall.
Young FBI agent Johnny Utah (Keanu Reeves) goes undercover at the suggestion of his partner (Gary Busey) to learn if a group of wild surfers is actually a gang of bank robbers. He soon comes under the dangerous spell of the surfers' charismatic leader, Bodhi (Patrick Swayze), a mystical mastermind who'll do absolutely anything for a thrill – and expects his followers to do the same.
The new "Pure Adrenaline Edition" will contain the movie in its original 2.35:1 widescreen aspect ratio in a 16×9 transfer, as well as audio tracks in 5.1 Dolby Digital. The release will the chock-full of bonus materials, such as a selection of Deleted Scenes, including "Holistic Fitness With Agent Pappas," "Agent Johnny Utah Thinks He Can Surf," "Tyler Saves Johny From The Waves," "Penetration Of The Social Infrastructure," "Tyler & Johnny Spend Time Alone In The Water," "A Basic Hit & Run," "Tyler Accuses Johnny Of Using Her," and "Johnny & Bodhi Talk About Robbing Banks."
Also included are a series of Featurettes covering various aspects of the movie and its production, such as "It's Make Or Break," "Ride The Wave," "Adrenaline Junkies," and "On Location: Malibu." You will also find a Still Gallery on the disc as well as the movie's Theatrical Trailers
"Point Break: Pure Adrenaline Edition" will make it to stores on October 3 for only $19.98. Rock on!