Paramount will unleash Leslie Nielsen in Police Squad! in November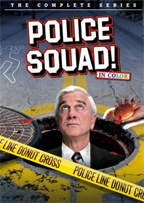 We have just received information about Paramount Home Entertainment's plans to release Police Squad! – The Complete Series on DVD in November, complete with a bunch of great extras.
Starring Leslie Nielsen in this satirical comedy from 1982, "Police Squad" pits an ace detective and his captain (Leslie Nielsen & Alan North) against the criminal elements that befoul a big city.
The DVD release will feature the entire series as well as some cool extras, such as a brand new interview with Leslie Nielsen. A number of Behind-The-Scenes Featurettes are also included in the release, as well as hilarious commentary tracks by the filmmakers on selected episodes. Also included is a Gag Reel.
"Police Squad!" will come to DVD on November 7 with a suggested retail price of $19.98.