Paramount Home Entertainment brings Over the Hedge in October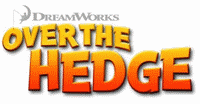 Now that Dreamworks is part of the Viacom Group, Paramount Home Entertainment will be releasing the studio's films, and the first one on the plate will be the animated movie Over The Hedge which hit theaters only a few weeks ago.
Scheduled for release in October, this is a fast turnaround of the film, but nonetheless, the studio is adding some exciting bonus materials to the disc, such as an all-new 4-minute animated short film called "Hammy's Boomerang Adventure."
Also include on the disc will a Commentary Track, Making Of Featurettes and Cast Interviews as well as Mock Infomercials and a Drawing Lesson to teach you how to draw Hammy.
"Over The Hedge" will be in stores on October 17 with a suggested retail price of $29.99.