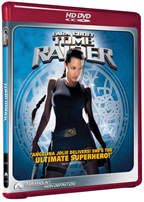 Paramount Home Entertainment has finally taken the plunge into high definition with 10 HD-DVD titles coming in the next few months.
On July 25th, Sahara, Tomb Raider, Sky Captain And The World Of Tomorrow and Tim Burton's Sleepy Hollow will arrive. August 1st will include Four Brothers, We Were Soldiers and The Manchurian Candidate. Then on August 8th, expect U2: Rattle and Hum, Aeon Flux and The Italian Job.
Interestingly, it appears as if Paramount is taking the same appoach to these early HD-DVD titles they took to DVD initially, which means all releases will be entirely devoid of bonus materials. but forutnately the price is not bad at all, as all these titles will be instores for $29.98. It is an odd cross-mix of titles, but Paramount is certainly welcome to the fold.