More info on Transformers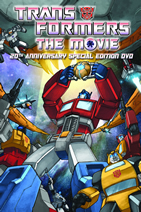 Thanks to Comic-Con, several new announcements will start showing up next week. The first is a new list of supplements on the upcoming Transformers 20th Anniversary Edition DVD and some interesting cover art news.
The Movie features the voice of Orson Welles in his final role, as well as stars Eric Idle, Judd Nelson, Leonard Nimoy, Casey Kasem, Robert Stack, John Moschitta, Peter Cullen, and Frank Welker. The DVD also features a winning soundtrack featuring the iconic theme "The Transformers" performed by Lion, and the popular "The Touch," performed by Stan Bush. The movie, set in 2005, chronicles the efforts of the heroic Autobots to defend their home of Cybertron from the evil Decepticons and Unicron, a huge robotic creature that devours planets.
The big news is that the film will finally be presented in anamorphic widescreen. The title has not been available in North American in widescreen on home video ever. A fullscreen version will also be available. Additionally on the disc will be the Autobot Matrix of Knowledge Presentation which will present the film with a series of pop-up trivia notes and cultural references which sprang from the cartoon. A sneak peek at the live action film coming next summer, complete with interviews with Michael Bay and Steven Spielberg will be included. Commentary tracks, interviews, trailers and toy commercials. Additionally, the cover art of the DVD packaging is going to – in some way – transform.
The two-disc set is certainly being cared for. It will arrive on November 7th.