Criterion Collection brings Brazil back to DVD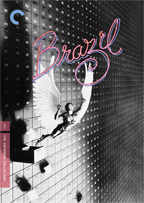 Although there were a few DVD versions of Terry Gilliam's Brazil released over the years, Image Entertainment is preparing a new version for release this fall.
Pitting the imagination of common man Sam Lowry against the oppressive storm troopers of the Ministry of Information, this bitter parable for the Information Age has come to be regarded as an anti-totalitarian cautionary tale equal to the works of George Orwell, Aldous Huxley, and Kurt Vonnegut.
Image will release two versions of the film on DVD, both featuring a 142-minute Director's Cut of the film, assembled from footage of the European and US version. First there will be a single-disc release featuring only the movie in a 16×9 enhanced widescreen presentation for the first time, while the second release will be a 3-disc DVD set, also containing a wealth of extras.
Both versions will feature a Commentary Track by Terry Gilliam and an essay by Jack Mathews.
The 3-disc version will also contain the 30-minute On-set Documentary "What Is Brazil?" as well as Criterion's original exposé The Battle Of Brazil covering the long battle over the film's US release. Hundreds of Storyboards, Drawings and Photos will also be included on the release, as well as Rare, Raw Behind-The-Scenes Footage and Interviews with the production team.
As a special treat, the released also contains the 94-minute "Love Conquers All" Version of Brazil, with all the changes Gilliam refused to make. It is accompanied by an Audio Essay by David Morgan.
The release is rounded out by the movie's theatrical trailer.
Criterion has always been a guiding light in terms of content for their special editions and this upcoming release of "Brazil" is no different. The "Love Conquers All" version alone is worth the price of admissions for fans, but they top it off with a number of other valuable extras.
"Brazil: The Director's Cut" will be in stores on September 5. The single disc version will carry a $29.95 price tag while the 3-disc DVD set will go for $59.95. It may appear a bit steep but given the effort that went into the release, certainly well worth it. After all, it is a Criterion Collection release.